Pushing limits beyond the market offer​
If you need an antenna that can withstand any type of weather, a conventional measurement antenna won't suffice. It may suffer from poor performance in rain or dust, and it might not have a long lifespan. Nevertheless, RF SPIN's customer requirements have revealed a strong and growing market demand for such devices. Despite this demand, only a handful of manufacturers have the courage to venture into their development.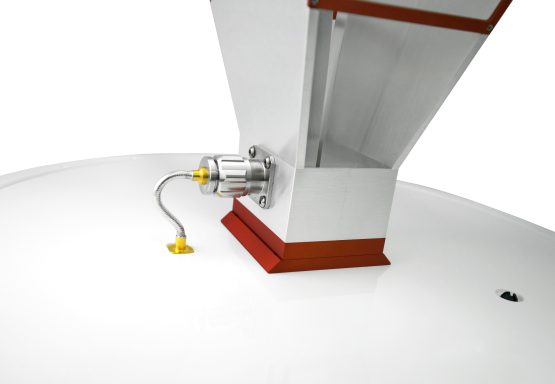 Technologically advanced solution by RF SPIN
Precision is paramount in the development of all RF SPIN products. We prioritize not only impeccable functionality but also unrivaled quality in all components used, as well as the final appearance of the product. When searching for a way to reliably protect antennas in outdoor environments while maintaining their optimal performance, we encountered a few snags that we had to resolve over time.
Our development team encountered several technological challenges during the development of the product, which led to several rounds of testing, measurements, and subsequent modifications of the prototype. Only after we were confident in its performance did we release the final product and include it in our permanent portfolio.
Choosing the right material and quality components​
A crucial point in the development process was finding a durable but thin material with good electrical performance that minimizes any impact on the antenna's RF parameters. After thorough testing and multiple measurements, we determined the ideal distance for the antenna from the front of the radome. The result of a demanding year-long process is a well-thought-out product with excellent parameters and characteristics, currently unmatched by competitors on the market.
Exploring novel applications for RF SPIN technology in harsh environments
Using a radome is particularly useful for broadband antennas with longer ranges, especially in situations where the antenna is exposed to challenging weather conditions, such as rain, saltwater, or ice. While it may be sufficient to cover such an antenna from above to protect it, this solution is not applicable to antennas that point upwards. Conventional covers may limit signal transmission and reduce overall antenna performance.
This is where radome protection comes in. Thanks to its special material, it transmits signals while limiting the impact on antenna performance. Practical applications of antennas in radomes are constantly expanding, and advancements in manufacturing technology, such as those employed by RF SPIN, are contributing to this. The use of outdoor antennas is continuously monitored, discussed with customers, and further developed to ensure the best possible use and functionality.
Current RF SPIN portfolio of outdoor antennas​
Currently, we offer the following antenna models in radome: QRH11, QRH18, DRH18E, DRH18EX, and DRH10. We plan to gradually expand this offering with other frequently requested products. All RF SPIN antennas in radome undergo individual measurements and come with a calibration certificate that includes all key parameters.