There are many RF applications and various kinds of antennas.  It is not always easy to choose the proper antenna. Along these lines, we will try to help you with the decision.
The selection of an antenna depends on many parameters, and the customer should be able to know what parameters are important to they and which are less. The basic electric parameters, in which everyone should be interested, are Frequency, Polarization, and Gain or Antenna Factor. Sometimes of great importance is also Beamwidth, Side Lobe Levels, or Cross Polarization. From the mechanical parameters, we need to know the connector type, weight, antenna size, and even the mounting method.
If you can define at least some of these parameters, choosing a suitable antenna will be easier. RF SPIN products are always sorted into categories and by frequency. You can also find the basic groups of antennas in the navigation menu and the division looks like this:
Single Polarized Broadband Antennas
Dual Polarized Broadband Antennas
Other Antennas
RF SPIN is trying to name the antenna in a logical way so in most cases the number in the name of the antenna corresponds with maximum operational frequency. For example, DRH67 is Double Ridged Horn Antenna operating up to 67 GHz. The following is a brief description of each antenna group.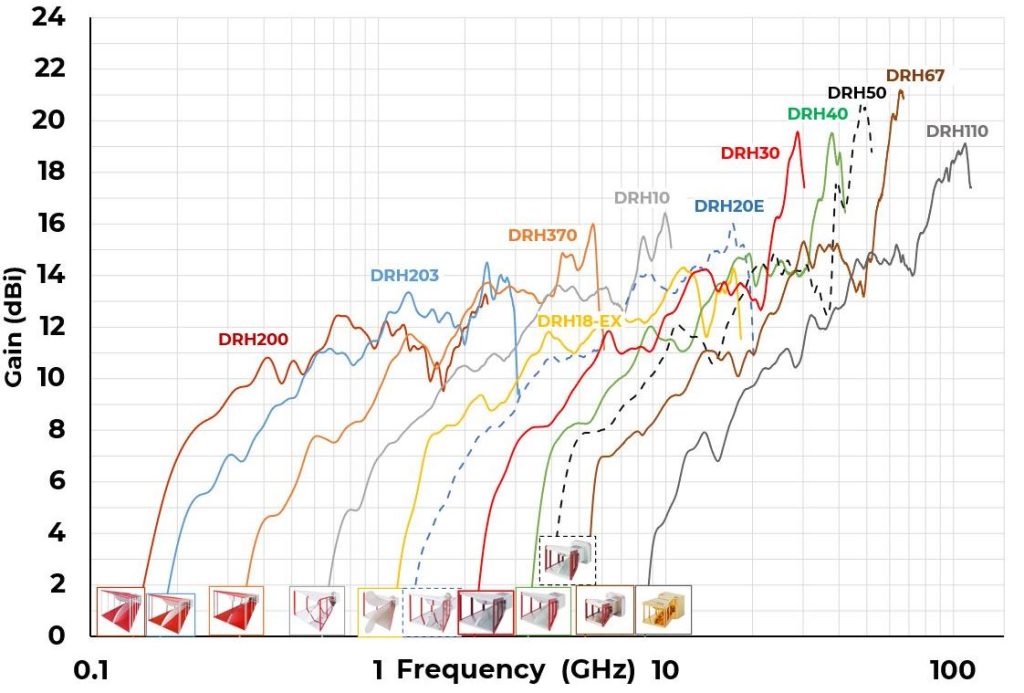 A Double Ridged Horn Antennas is popularly used in anechoic chambers to characterize an antenna under test (AUT) due to its advantages such as high gain and broadband. The idea of using ridges in horn antennas to increase the bandwidth goes back to the 50s. Also, Double Ridged Horn Antennas are popular in the various areas of electromagnetic compatibility (EMC) testing, standard measurements, radar, detection systems, reflector feeds, electronic warfare, microwave imaging, and satellite tracking systems.
Quad Ridged Horn Antennas has a similar design to a Double Ridged Horn, but as the name implies, this antenna can handle two polarizations at once. This feature is very convenient for measuring 3D patterns. In general Dual Polarized Antennas have slightly lower gain and inferior VSWR. The big advantage is that we can use a hybrid coupler and create circular polarization with Left Hand Circular or Right Hand Circular.
A Standard Gain Horn Antennas or simply gain horn antennas are widely used as reference gain antennas and Near-Field test range feeds. The RF SPIN standard gain horn antenna products cover frequencies from 8.2 GHz (WR90) up to 140 GHz (WR8) and are available with two different surface finishes – gold plated or Alodine 2040. Many of our gain horn antennas are RoHS and REACH compliant, and also meet the NRL-4433 standard. These products come in 10, 15, 20 and 25 dBi models.